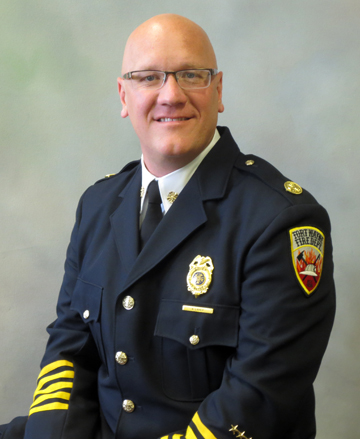 Fire Chief Eric Lahey
ACCOUNTABLITY. INNOVATION.
COMMITMENT.
Welcome to the Fort Wayne Fire Department. Since 1839, we have had a singular mission: reduce the loss of life and minimize property damage for the people in our growing community. We've worked wisely to that end, investing in technology and engine houses, recruiting a highly trained and dedicated force of firefighters, and challenging ourselves to continued innovation and evolution in order to perform our duties in the best possible way. Today, more than 350 firefighters wear a patch on their sleeves that reminds them of the faith and trust that have been placed in their hands. It's a symbol of our commitment to excellence and an honor we take very seriously, from our engine houses to our administrative offices and everywhere in-between.
It takes a team to make a difference. The men and women of the Fort Wayne Fire Department are committed to seven core values of loyalty, honesty, compassion, accountability, courage, enthusiasm, and selfless service. Whether we're working together to provide exemplary fire service—including basic life-saving Emergency Medical Services, Fire Suppression, Fire Investigation, Fire Prevention, Emergency Hazardous Materials Response, Technical Rescue Response and Water Rescue Response to the citizens of Fort Wayne, as well as the eleven counties in Indiana District 3—or striving to find innovative ways to improve our service both in and out of the engine houses, we will continue to apply our professional knowledge and resources to the same simple end: save lives and reduce the loss of property for the more than 250,000 residents in our 110 square mile service area.
It's a commitment that has inspired action and created results as we strive to be the "Safest City of our Size." The Fort Wayne Fire Department will continue to provide efficient, quality service with the compassion and professionalism that all who interact with us have come to expect. It's why we suit up for work every day. It's the reason we are proud of the patch on our sleeves. Accountability. Innovation. Commitment.
Eric Lahey
Fire Chief, Fort Wayne Fire Department