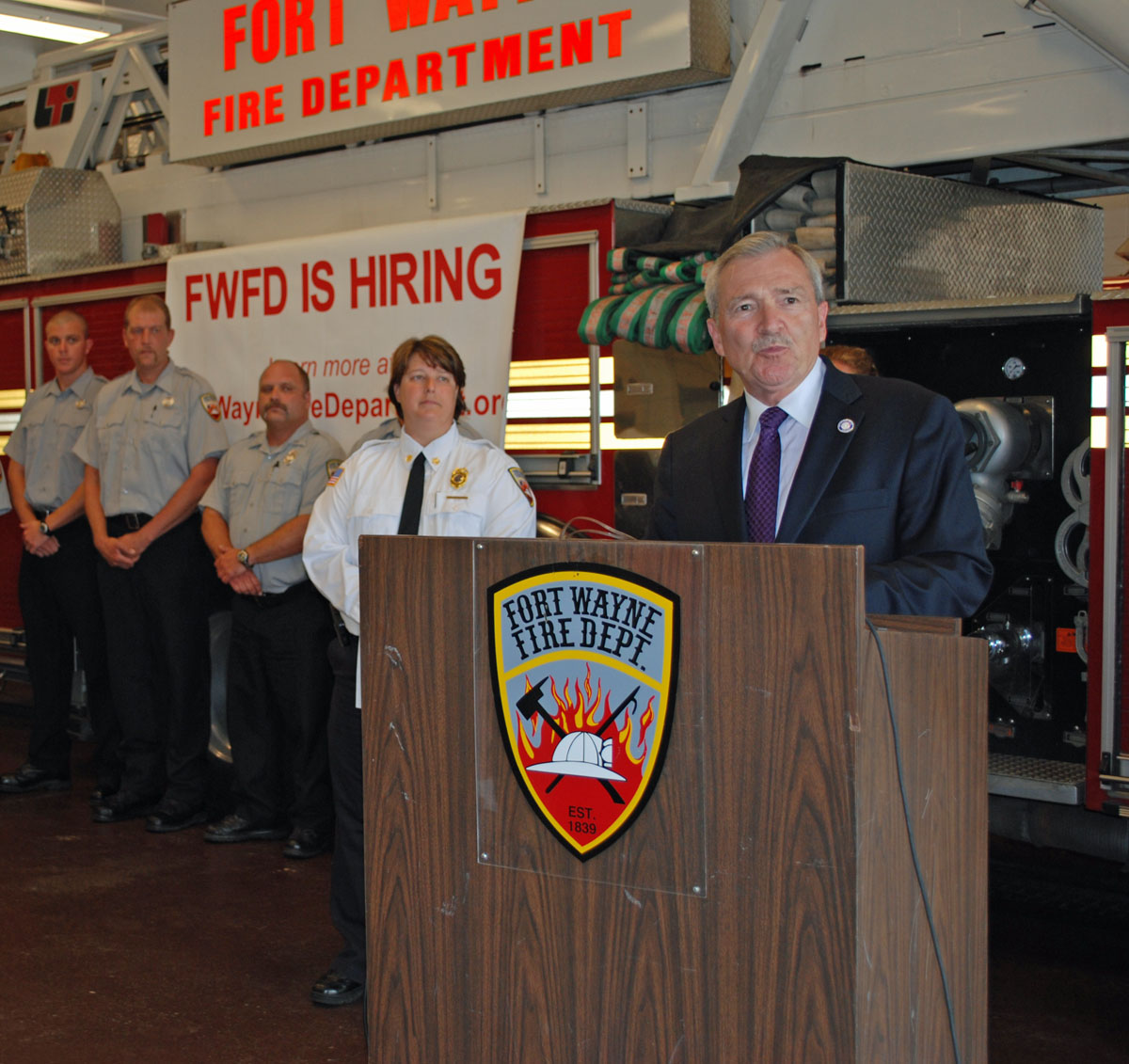 July 8, 2013 - Today, with the support of Mayor Tom Henry, Fort Wayne Fire Department's (FWFD) Fire Chief Amy Biggs announced applications for 15 City firefighter positions are now being accepted. Interested candidates should visit the FWFD's website at www.fortwaynefiredepartment.org.
The hiring announcement comes shortly after the Fort Wayne City Council approved the Fiscal Policy's Group and City supported recommendation to hire 15 new recruits.
"The FWFD is excited to announce applications are now being accepted," said Fire Chief Biggs. "The application is the first step in pursing an amazing career devoted to serving Fort Wayne and providing outstanding fire, medical, rescue and prevention services to the residents and visitors of our city."
Fort Wayne Fire Department's hiring process is highly competitive and is lengthy with multiple components. Biggs encourages candidates to familiarize themselves with the entire process. "Our goal is to hire qualified candidates, both men and women with diverse cultural backgrounds who represent the community we protect and serve. Candidates must understand the job of a firefighter is physically and mentally challenging, as is the hiring process. While the path is not easy, the reward is gratifying."
Minimal qualifications for potential candidates include: is 21 -35 years of age at the time of application;Is a high school graduate with diploma or have obtained a GED or equivalent; has no felony convictions; is a US Citizen at the time of application. Candidates meeting these qualifications are encouraged to complete and submit online applications found at www.fortwaynefiredepartment.org. Those who apply before the 4 p.m. July 26, 2013 deadline will take the Written Test/CPAT Orientation scheduled for Saturday, August 3, 2013 at the Memorial Coliseum.
The Fort Wayne Fire Department hiring process is a long process, not unlike most public safety hiring processes across the country.  From the time of application acceptance to appointment to the Fire Academy, the process can be 6-12 months in duration. Applicants must successfully pass each phase to move on in the hiring process.  The process is governed by two entities:   State of Indiana and the Fire Merit Commission codes and requirements. 
The Fort Wayne Fire Department's hiring process:
Written Exam/CPAT Orientation – Saturday, August 3, 2013     
CPAT
Panel Interview
Eligibility List is established
Background Investigation
Fire Chief Interview (subject to change)
State Agility Testing Including Acrophobia/Claustrophobia test
Conditional Offer of Employment
Psychological Exam
Medical Exam
Pension Board Approval
Merit Commission Approval
Appointment to Academy
While candidates will have several mandatory reporting dates during the hiring process, these dates are spread across the hiring timeline and prior notice is given so candidates can plan and prepare.  Candidates involved in the FWFD hiring process are encouraged to maintain their current employment.  
At the end of the process, candidates who are hired report to an approximately 17-week long Fire Academy.  The Academy follows a 40-hour work week.  Candidates are paid at the rate of 90% of a firefighter ($44,121.74 - 2013 figure—subject to change in accordance with IAFF Local 124 contract) while in the Academy.
To access the application or to learn more about a career within the FWFD, please visit the website at www. fortwaynefiredepartment.org.
###