Training Division Mission Statement
It is the mission of the Division of Training and Development to provide comprehensive training and educational programs for all public safety personnel in order to create and maintain a competent and professional work force needed to support and accomplish the mission of the Fort Wayne Fire Department.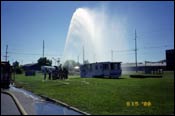 FacilitiesClassroom/Office Building
Five Story Concrete Training Tower
SCBA Confidence Course Building
Confined Space Simulation Facility
Fire Extinguisher Training Area
Flammable Liquid Fire Training Area
HAZ MAT Training Mock-up Area
Phase I and II Flashover Training Simulators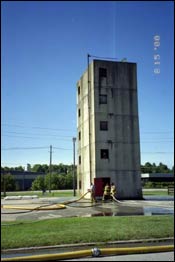 Training Programs
The Division of Training and Development is accredited with the International Fire Service Accreditation Congress through the Public Safety Training Institute of Indiana to provide instruction and certification for the following National Fire Protection Association (NFPA) Training Standards:


Firefighter I and II
Fire Service Instructor I, II, and III
Fire Officer I and II
Fire Investigator
Fire Inspector I and II
Airport Firefighter
Hazardous Materials Awareness, Operations, and Technician
Journeyman Firefighter certification training is provided through a joint agreement with the City of Fort Wayne, International Association of Firefighters Local #124, and the U.S. Department of Labor. This is a three-year comprehensive training program that provides cognitive knowledge, practical skills, and on-the-job experience. This program is also accredited through the Indiana Department of Veteran's Affairs allowing veterans to receive any applicable benefits.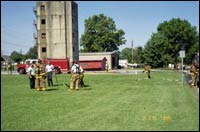 Certification is being pursued to become a State of Indiana EMS Training Institute. Instruction and certification will be available for training as a First Responder, Basic Emergency Medical Technician, and Advanced Emergency Medical Technician. Also, certification is being pursued to become a Community Training Center through the American Heart Association. Instruction and certification will be available in CPR, Basic First Aid, and Automatic External Defibrillation to the community.
Recruit Firefighter training is provided to new employees at the Training Academy located at 2700 Dwenger Avenue. This training program is currently 22 weeks long and certifies those that successfully complete the program as a NFPA Firefighter I/II and EMT-Basic.